♥ heart on wings


{Saturday, May 02, 2009}
Your Heart is Feeling Indifference


Your heart is pretty much on hiatus right now.

You're not particularly interested in love, and you're cultivating a sort of romantic apathy.

Whether you've been burned badly or you're just burned out, your heart is cold to passion.

Deep down, your heart is susceptible to: A bit of cold heartedness

Your current outlook on love: Detached and stoic - you try to analyze love from a logical perspective

Your love life will improve if you: Open up a little. Stepping back can help you find peace with your emotions, but it can also make you repress them.

Watch out for: Too much cynicism. Indifference can lead you down a dark path.

You Are Disturbingly Profound


You're contemplative, thoughtful, and very intense.

Taking time to figure out the meaning of life is a priority for you.

Because you're so introspective, you often react in ways that surprise people.

No one can really understand how you are on the inside... and that disturbs them.

Your Little Black Dress Says You're Quirky


You are lively and outgoing. You are naturally friendly.

You enjoy meeting new people and making new connections.

Your style is whimsical and unique. You're good at putting together interesting outfits.

If you were a shoe, you would be: High heeled boots

You are Extroverted, Conscientious, Agreeable, Neurotic and Open


Extroversion:

You have medium extroversion.

You're not the life of the party, but you do show up for the party.

Sometimes you are full of energy and open to new social experiences.

But you also need to hibernate and enjoy your "down time".

Conscientiousness:

You have high conscientiousness.

Intelligent and reliable, you tend to succeed in life.

Most things in your life are organized and planned well.

But you borderline on being a total perfectionist.

Agreeableness:

You have medium agreeableness.

You're generally a friendly and trusting person.

But you also have a healthy dose of cynicism.

You get along well with others, as long as they play fair.

Neuroticism:

You have medium neuroticism.

You're generally cool and collected, but sometimes you do panic.

Little worries or problems can consume you, draining your energy.

Your life is pretty smooth, but there's a few emotional bumps you'd like to get rid of.

Openness to experience:

Your openness to new experiences is high.

In life, you tend to be an early adopter of all new things and ideas.

You'll try almost anything interesting, and you're constantly pushing your own limits.

A great admirer of art and beauty, you can find the positive side of almost anything.

Ahuh. Okay, I'll try to learn or maybe, I have to learn.
1:41 PM;
be with myself
Affirmation

cappucino on a rainy day,
snuggles in the warmth of blankets,
hot food in the arms of hunger,
huge umbrella of a stranger,
embraces in the rain,
smiles amidst frowns,
sincerity..
triumphs and singing of the heart

in center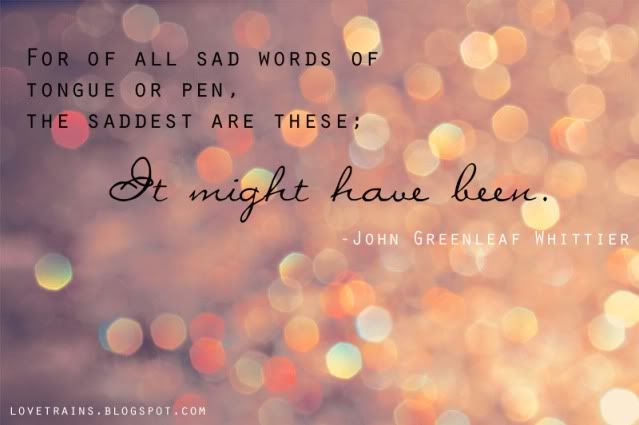 clarity

Raindrops like candlewax
Drowning in a
Solid sculpture, you Burning and cold.



peace


Independence
Health
Baking skills
Yoga/Electone lessons
Love
Faith
Happiness



serenity.

*HUGS* TOTAL! *HUGGIES* snuggles & cuddles


.::.


Cousin ♥
amelin =)
fiona =)
ke*hua =)
edwin =)
sim*yee =)
yi*chen =)
anna =)
♥ trains


.::.
mist swirl memories
October 2004
February 2005
March 2005
April 2005
May 2005
June 2005
July 2005
August 2005
September 2005
October 2005
November 2005
December 2005
January 2006
February 2006
March 2006
April 2006
May 2006
June 2006
July 2006
August 2006
September 2006
October 2006
November 2006
December 2006
January 2007
February 2007
March 2007
May 2007
June 2007
August 2007
September 2007
November 2007
December 2007
January 2008
February 2008
March 2008
April 2008
May 2008
June 2008
July 2008
August 2008
September 2008
October 2008
November 2008
December 2008
January 2009
February 2009
March 2009
April 2009
May 2009
June 2009
July 2009
August 2009
September 2009
October 2009
November 2009
December 2009
January 2010
February 2010
March 2010
May 2010
June 2010
July 2010
August 2010
September 2010
October 2010
November 2010
December 2010
January 2011
February 2011
April 2011
May 2011
June 2011
October 2011
November 2011
December 2011
January 2012
March 2012
July 2012
August 2012
October 2012
January 2013
March 2013
April 2013
May 2013
November 2013
June 2014

Credits:
momotea
,
larafairie
.
Images:
Foto decadent
,
deviantart
.
Since 31st March'06
All Rights Reserved