♥ heart on wings


{Sunday, July 13, 2008}
I did a terrible thing today. The constricted feeling in me overwhelmed me and caused me to flare up when my mom threatened to not let me buy a new ipod as my ipod mini died a sad face the first time I dropped it a week ago. I felt prejudiced; when my brother wanted to buy a tv, they immediately bought it for him. Have been harping on the ipod for a week now. So I felt so restrained being cooped up in the house all the time, I grabbed any pieces of clothing and my bag and off I flew out of the house without looking back. Oh, I made my mom pissed off more when I took cash from them. Became a bad girl, a bitch. My mom is correct though. I'm a bitch who does not have a habit of saving money because I have no weekly allowance or whatnot. Just-so-used-to-taking-money-from-parents-when-i-need-it bitch.

I felt scared once I went out of the house though. Didn't know where to go, what to do. A lost soul. Drifted to Tampines Mall and Century Square and sensed many wandering souls like me. Hoped to see someone but didn't. Felt so foolish. Must remind self that I'm not in a Korean Love Drama or whatnot. Saw some ex-dunmanites though. Wanted so badly to buy something at every shop, wanted so badly to go shopping but something in me didn't want to disappoint my parents too much. Just bought a dictionary and went home after drifting like a ghost.

Feeling rather relieved though and I guess it's the window shopping and temporary feeling of being carefree and independent...but the loneliness still looms ahead and guilt threatens.

9:40 PM;
be with myself
Affirmation

cappucino on a rainy day,
snuggles in the warmth of blankets,
hot food in the arms of hunger,
huge umbrella of a stranger,
embraces in the rain,
smiles amidst frowns,
sincerity..
triumphs and singing of the heart

in center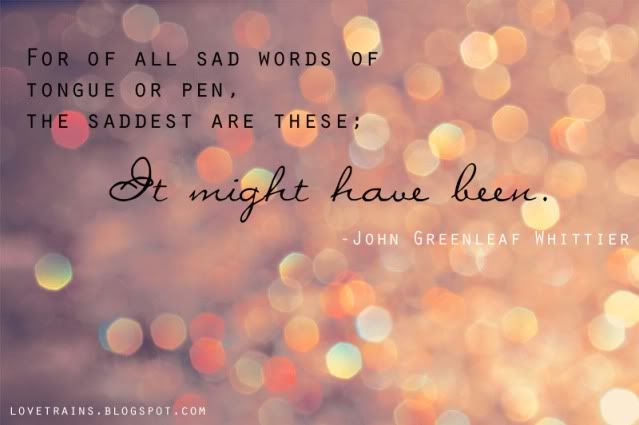 clarity

Raindrops like candlewax
Drowning in a
Solid sculpture, you Burning and cold.



peace


Independence
Health
Baking skills
Yoga/Electone lessons
Love
Faith
Happiness



serenity.

*HUGS* TOTAL! *HUGGIES* snuggles & cuddles


.::.


Cousin ♥
amelin =)
fiona =)
ke*hua =)
edwin =)
sim*yee =)
yi*chen =)
anna =)
♥ trains


.::.
mist swirl memories
October 2004
February 2005
March 2005
April 2005
May 2005
June 2005
July 2005
August 2005
September 2005
October 2005
November 2005
December 2005
January 2006
February 2006
March 2006
April 2006
May 2006
June 2006
July 2006
August 2006
September 2006
October 2006
November 2006
December 2006
January 2007
February 2007
March 2007
May 2007
June 2007
August 2007
September 2007
November 2007
December 2007
January 2008
February 2008
March 2008
April 2008
May 2008
June 2008
July 2008
August 2008
September 2008
October 2008
November 2008
December 2008
January 2009
February 2009
March 2009
April 2009
May 2009
June 2009
July 2009
August 2009
September 2009
October 2009
November 2009
December 2009
January 2010
February 2010
March 2010
May 2010
June 2010
July 2010
August 2010
September 2010
October 2010
November 2010
December 2010
January 2011
February 2011
April 2011
May 2011
June 2011
October 2011
November 2011
December 2011
January 2012
March 2012
July 2012
August 2012
October 2012
January 2013
March 2013
April 2013
May 2013
November 2013
June 2014

Credits:
momotea
,
larafairie
.
Images:
Foto decadent
,
deviantart
.
Since 31st March'06
All Rights Reserved