♥ heart on wings


{Friday, June 27, 2008}
Yay! Finally the mid-years have ended. Haha, although I'm apprehensive about literature!? (blanked out on the unseen poetry part) and chinese(didn't study) and history(sick of writing and thinking)...math the least I guess 'cause I think I prepared the most for it? Mid-years feel a lot more relaxed than any dunman exam and it's quite bad. Means my attitude is bad. Never study hard enough. Lol. Maybe arts students don't need to do so many TYS questions or do hands-on stuff, just reading? Maybe. But our hands will be like twisted. =)

And after the last paper today, sat for the A Levels Chinese Oral. I love the school, informed us about 2 days before. Anyway, it's not really difficult but I guess my chinese oral deproved a lot because I rarely speak chinese in school now. -_- So yeah, the chinese structure and all. And one of my invigilators was my chinese teacher from Tampines Junior!! It's really good to know it's really a small world after all. =))

Today is a happy day. =) After the oral exam, went for life-saving cca and it's the first time I wore the new team swimming costume and it's um, a bit too revealing?(sexy??) -_- But woah, it really makes you swim a lot faster because it's that kinda high-cut-on-the-thighs costume. Practiced on towing and woah, I could tow a guy now ('cause my partner was not present)! Woo. Okay, sounds really wrong but it means I'm much stronger than before! Haha, good. I'm not a weakling now. And damsel in distress is not really good anyway. =) Haha, fun day for cca today. Not so pressurising yet a great sense of satisfaction. Tomorrow will be better! PE elective: cable-skiing at East Coast! Woo. Cool. Oh remember the sunblock though! Ha.

11:14 PM;
be with myself
Affirmation

cappucino on a rainy day,
snuggles in the warmth of blankets,
hot food in the arms of hunger,
huge umbrella of a stranger,
embraces in the rain,
smiles amidst frowns,
sincerity..
triumphs and singing of the heart

in center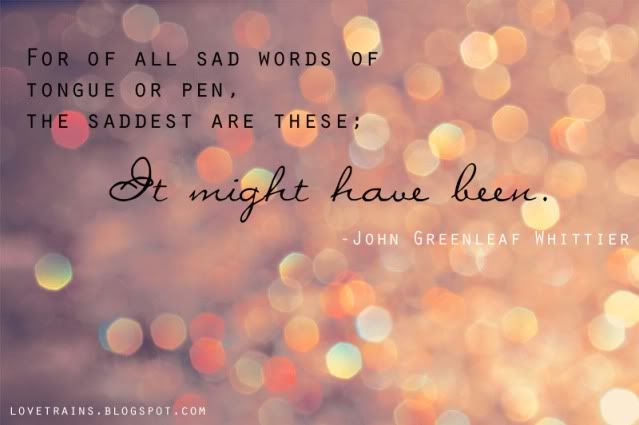 clarity

Raindrops like candlewax
Drowning in a
Solid sculpture, you Burning and cold.



peace


Independence
Health
Baking skills
Yoga/Electone lessons
Love
Faith
Happiness



serenity.

*HUGS* TOTAL! *HUGGIES* snuggles & cuddles


.::.


Cousin ♥
amelin =)
fiona =)
ke*hua =)
edwin =)
sim*yee =)
yi*chen =)
anna =)
♥ trains


.::.
mist swirl memories
October 2004
February 2005
March 2005
April 2005
May 2005
June 2005
July 2005
August 2005
September 2005
October 2005
November 2005
December 2005
January 2006
February 2006
March 2006
April 2006
May 2006
June 2006
July 2006
August 2006
September 2006
October 2006
November 2006
December 2006
January 2007
February 2007
March 2007
May 2007
June 2007
August 2007
September 2007
November 2007
December 2007
January 2008
February 2008
March 2008
April 2008
May 2008
June 2008
July 2008
August 2008
September 2008
October 2008
November 2008
December 2008
January 2009
February 2009
March 2009
April 2009
May 2009
June 2009
July 2009
August 2009
September 2009
October 2009
November 2009
December 2009
January 2010
February 2010
March 2010
May 2010
June 2010
July 2010
August 2010
September 2010
October 2010
November 2010
December 2010
January 2011
February 2011
April 2011
May 2011
June 2011
October 2011
November 2011
December 2011
January 2012
March 2012
July 2012
August 2012
October 2012
January 2013
March 2013
April 2013
May 2013
November 2013
June 2014

Credits:
momotea
,
larafairie
.
Images:
Foto decadent
,
deviantart
.
Since 31st March'06
All Rights Reserved