♥ heart on wings


{Sunday, June 29, 2008}
Cable-skiing was really thrilling, both fun and scary. Went to school early in the morning and then my father warned me that I might drown. -_-, of course I didn't. I'm lucky, I didn't have any bruises or cuts when some girls had. Just that my arms are aching like anything and I slept for 11 hours after a long day yesterday. Had about eight tries for cable-skiing; the first four tries were on a kneeboard, the easiest I suppose. Just kneel on the board and hold on to the cable-rope thing. The first 2 attempts failed and the 3rd attempt I could go quite far. Went the furthest with the 4th/5th attempt. =) Oh man, the speed of the cable thing is like very fast on the water and I'm kind of scared of speed, you know, I will get that kinda heart-wants-to-jump-out feeling. Even in a fast-moving car, I will bowl over in my arms and in rollercoasters, I will scream and cover my eyes with my hands and bowl over. -_- Lame I know. So during cable-skiing, I was screaming all the way; was the only way to get rid of the heart-wants-to-jump-out feeling what. Ha. The last few tries were on a wakeboard and double-skis. Fell into the water in just a few seconds for that.

After cable-skiing, went with my life-saving people to NUS to watch the seniors take part in the national lifesaving competition with various jcs and polys and universities. Eh, it was rather boring after a while but my life-saving people never fail to make me laugh till stomachache and make my day. =)) Like them a lot a lot. Haha. And eh, I can't really imagine myself taking part in the nationals because it's a compulsory thing. It would be funny. -_- But first, I have to pass the Bronze Medallion and I secretly hope I won't pass so I won't need to go for the nationals haha, but no. I guess it would be better to go with the whole team. =)

Yawn. Tomorrow's the start of another term. Good though. A term will end quickly as it began.

7:06 PM;
be with myself
Affirmation

cappucino on a rainy day,
snuggles in the warmth of blankets,
hot food in the arms of hunger,
huge umbrella of a stranger,
embraces in the rain,
smiles amidst frowns,
sincerity..
triumphs and singing of the heart

in center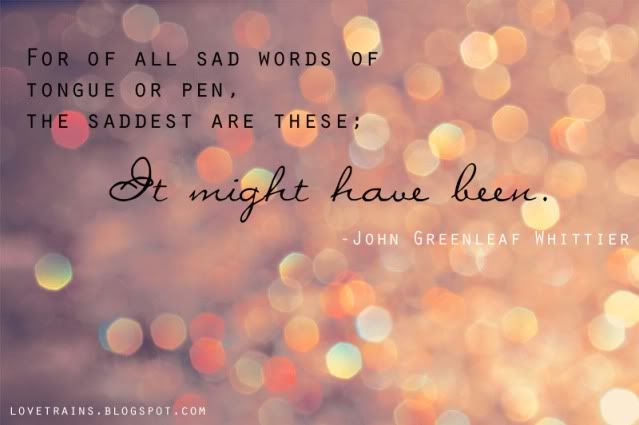 clarity

Raindrops like candlewax
Drowning in a
Solid sculpture, you Burning and cold.



peace


Independence
Health
Baking skills
Yoga/Electone lessons
Love
Faith
Happiness



serenity.

*HUGS* TOTAL! *HUGGIES* snuggles & cuddles


.::.


Cousin ♥
amelin =)
fiona =)
ke*hua =)
edwin =)
sim*yee =)
yi*chen =)
anna =)
♥ trains


.::.
mist swirl memories
October 2004
February 2005
March 2005
April 2005
May 2005
June 2005
July 2005
August 2005
September 2005
October 2005
November 2005
December 2005
January 2006
February 2006
March 2006
April 2006
May 2006
June 2006
July 2006
August 2006
September 2006
October 2006
November 2006
December 2006
January 2007
February 2007
March 2007
May 2007
June 2007
August 2007
September 2007
November 2007
December 2007
January 2008
February 2008
March 2008
April 2008
May 2008
June 2008
July 2008
August 2008
September 2008
October 2008
November 2008
December 2008
January 2009
February 2009
March 2009
April 2009
May 2009
June 2009
July 2009
August 2009
September 2009
October 2009
November 2009
December 2009
January 2010
February 2010
March 2010
May 2010
June 2010
July 2010
August 2010
September 2010
October 2010
November 2010
December 2010
January 2011
February 2011
April 2011
May 2011
June 2011
October 2011
November 2011
December 2011
January 2012
March 2012
July 2012
August 2012
October 2012
January 2013
March 2013
April 2013
May 2013
November 2013
June 2014

Credits:
momotea
,
larafairie
.
Images:
Foto decadent
,
deviantart
.
Since 31st March'06
All Rights Reserved