♥ heart on wings


{Monday, May 26, 2008}
A certain time period ago,
I didn't even know about your existence.
I didn't know about you- angel, sunshine,
Didn't know about you at all.
I may have been too blind and too busy
To realise there could be someone
Watching over me.
I really must have been
Too blind, too busy.
Still I am really thankful
Somehow or other,
I got to know about you.

But sunshine will not stay.
It will beam and shine for a certain period of time
And then it goes away for a while
And comes back again.
-It still will come back.
Clinging on to that hope,
I search for you
Everywhere I go.
The glimmer of hope
Gives me strength and
Something in life.

Silly old me
I haven't even got a chance to speak
Face to face with you.
But I am indeed
Always, thinking about you
-Dreaming about you.
I haven't gotten the hearing of your voice
Just a shadow of you
Without a voice
And then
Like vapour of the wind
You're gone
-Different routes in life.
Silly old me
Sometimes can't help but wonder
Whether I could have made you up
To make myself smile.
My intangible angel,
My intangible sunshine...



I'm still exhausted after Sunday's Shopping with Puay Suan and Amelin. It was really a shopping day from day to night. Only girls can do that. We started out at Marina Square then went on to Bugis and then to Tampines Mall and Century Square for the night. Trying out clothes store after store, walking and walking, talking and talking, looking and looking. So fun, although in the beginning it was not a fruitful shopping trip. But then I got a bit dizzy with a slight headache and the next morning (which was today) got a major headache that's still existing a bit now. Which shows how much ground we covered and how 'intense' the shopping was. Lol. We didn't do impulsive buying though, so no shopping spree. Instead we kept on pondering over whether to buy this certain piece of clothing or not but not really me though. I'm more decisive. Lol. So I missed the class outing to Sentosa. Sad thing. And I feel really guilty today, for not doing any work but lazing around the whole day due to the silly headache for silly old me.

10:52 PM;
be with myself
Affirmation

cappucino on a rainy day,
snuggles in the warmth of blankets,
hot food in the arms of hunger,
huge umbrella of a stranger,
embraces in the rain,
smiles amidst frowns,
sincerity..
triumphs and singing of the heart

in center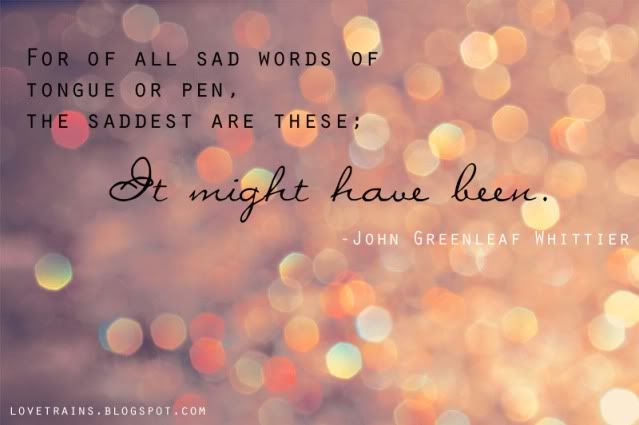 clarity

Raindrops like candlewax
Drowning in a
Solid sculpture, you Burning and cold.



peace


Independence
Health
Baking skills
Yoga/Electone lessons
Love
Faith
Happiness



serenity.

*HUGS* TOTAL! *HUGGIES* snuggles & cuddles


.::.


Cousin ♥
amelin =)
fiona =)
ke*hua =)
edwin =)
sim*yee =)
yi*chen =)
anna =)
♥ trains


.::.
mist swirl memories
October 2004
February 2005
March 2005
April 2005
May 2005
June 2005
July 2005
August 2005
September 2005
October 2005
November 2005
December 2005
January 2006
February 2006
March 2006
April 2006
May 2006
June 2006
July 2006
August 2006
September 2006
October 2006
November 2006
December 2006
January 2007
February 2007
March 2007
May 2007
June 2007
August 2007
September 2007
November 2007
December 2007
January 2008
February 2008
March 2008
April 2008
May 2008
June 2008
July 2008
August 2008
September 2008
October 2008
November 2008
December 2008
January 2009
February 2009
March 2009
April 2009
May 2009
June 2009
July 2009
August 2009
September 2009
October 2009
November 2009
December 2009
January 2010
February 2010
March 2010
May 2010
June 2010
July 2010
August 2010
September 2010
October 2010
November 2010
December 2010
January 2011
February 2011
April 2011
May 2011
June 2011
October 2011
November 2011
December 2011
January 2012
March 2012
July 2012
August 2012
October 2012
January 2013
March 2013
April 2013
May 2013
November 2013
June 2014

Credits:
momotea
,
larafairie
.
Images:
Foto decadent
,
deviantart
.
Since 31st March'06
All Rights Reserved