♥ heart on wings


{Friday, March 28, 2008}
The first week of Life-saving/Swimming. Was not used to wearing swimming costume in front of the guy seniors especially...so uncomfortable. And not used to swimming without being able to touch the floor of the pool and took quite some time to jump into the deep pool. The consoling side is that the instructor is nice and I hope he can make me pass the Bronze Medallion so that I can become a certified lifeguard. Sheesh.

The physical training was tiring though. Did 800 push-ups together with all the members, ran and did crunches, squats, circuit training all in the early afternoon and I'm totally surprised I'm still alive and writing this. But I can totally feel the ache all over and to people, I looked like I was dying. Sheesh. Please bless me, someone or something... I need blessings to last for 1 and a half years.

And I totally need to remind myself that I must get used to being permanently tanned and an aching body...but please, broad broad shoulders and muscular body stay far far away from me.

I still miss Dunman, everything that makes up Dunman. Even more so when I went back for the Dunman Carnival and the Dunman Guitar/String/Band concert. Missing is painful.

Awkward looks and silences
A place just for its purpose to be in
Smiling facade
Underneath; the hidden picture
Of a crying face
Comfort is lost
As Time puts on a facade too
-It comes to a standstill
Day is no longer a day
There is actually no light;
I no longer see you and
Your smile.

6:18 PM;
be with myself
Affirmation

cappucino on a rainy day,
snuggles in the warmth of blankets,
hot food in the arms of hunger,
huge umbrella of a stranger,
embraces in the rain,
smiles amidst frowns,
sincerity..
triumphs and singing of the heart

in center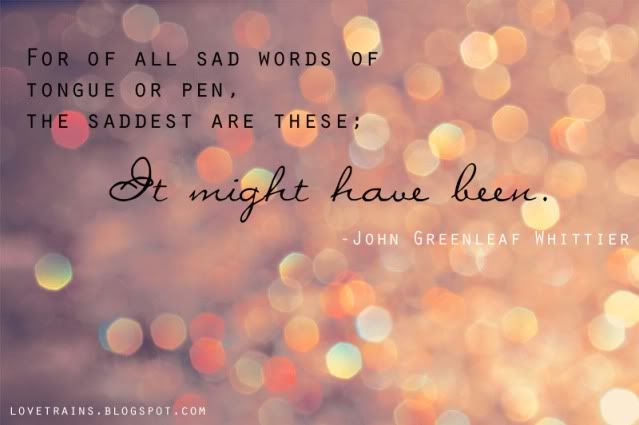 clarity

Raindrops like candlewax
Drowning in a
Solid sculpture, you Burning and cold.



peace


Independence
Health
Baking skills
Yoga/Electone lessons
Love
Faith
Happiness



serenity.

*HUGS* TOTAL! *HUGGIES* snuggles & cuddles


.::.


Cousin ♥
amelin =)
fiona =)
ke*hua =)
edwin =)
sim*yee =)
yi*chen =)
anna =)
♥ trains


.::.
mist swirl memories
October 2004
February 2005
March 2005
April 2005
May 2005
June 2005
July 2005
August 2005
September 2005
October 2005
November 2005
December 2005
January 2006
February 2006
March 2006
April 2006
May 2006
June 2006
July 2006
August 2006
September 2006
October 2006
November 2006
December 2006
January 2007
February 2007
March 2007
May 2007
June 2007
August 2007
September 2007
November 2007
December 2007
January 2008
February 2008
March 2008
April 2008
May 2008
June 2008
July 2008
August 2008
September 2008
October 2008
November 2008
December 2008
January 2009
February 2009
March 2009
April 2009
May 2009
June 2009
July 2009
August 2009
September 2009
October 2009
November 2009
December 2009
January 2010
February 2010
March 2010
May 2010
June 2010
July 2010
August 2010
September 2010
October 2010
November 2010
December 2010
January 2011
February 2011
April 2011
May 2011
June 2011
October 2011
November 2011
December 2011
January 2012
March 2012
July 2012
August 2012
October 2012
January 2013
March 2013
April 2013
May 2013
November 2013
June 2014

Credits:
momotea
,
larafairie
.
Images:
Foto decadent
,
deviantart
.
Since 31st March'06
All Rights Reserved