The simplicity is gone and the rat race is back.
I'm back! =) Yay, I survived the simple life of China.
Man, I'm so tired although I slept for 10 hours since the plane touched down at 1am today. But still, I miss blogging! And I miss my clean toilet and my warm and cozy bed! Haha. But I dislike the humid and dense air here; it's so much different from the cold and light air back there! Lol.
The trip to China was kinda fun, albeit there were 'amazing' toilets and oily foods. Glad that I didn't lose nor put on weight, albeit my brother and I loved to eat ice-creams on cold days and ate quite a lot during mealtimes and all, due to the weather. The weather there was hot and cold, with temperature ranging from 5 to 21 degrees. Imagine sunny Singapore with no humidity but cold wind that makes you shiver. Sadly we didn't see snow; we were close to seeing it. We saw only autumn leaves and colourful trees and flowers. Lol. The environment there was a total contrast. We saw cows and horses and dogs and lots of other animals, poor children with tattered clothes and traditional people and of course, the roads are dirty, with occasional animal droppings. Lol, but still, I survived. =) There were lots of culture things that I learnt back there too. And yeah, we took loads of pictures! =) I can't possibly put up all of them; just a few of the best pictures yeah?
Day 1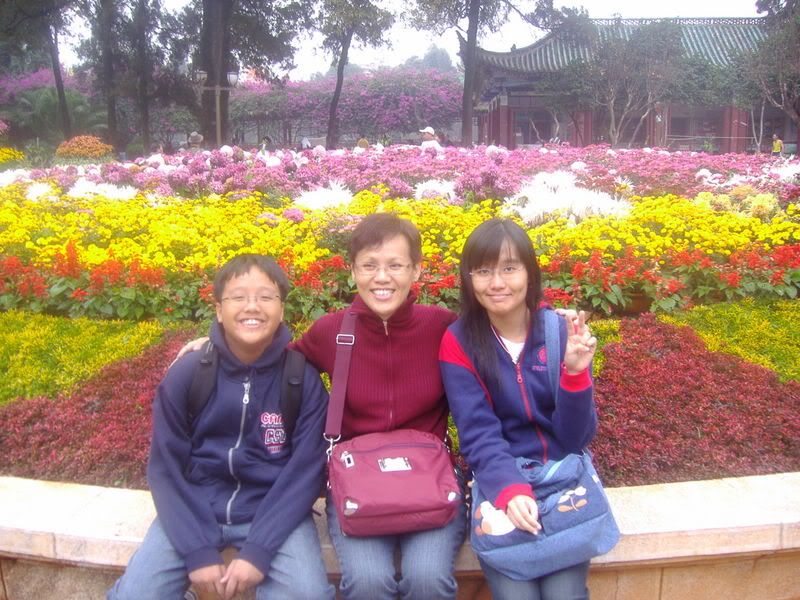 The first stop was a very beautiful garden with many kinds of trees and flowers. And a few hours before, I was on the plane puking non-stop due to infrequent eating and also partly because of the midnight flight. Lol, I look pale in comparison with my brother and my mom.
The calligraphy house inside the garden. The old man is so wise and clever that he can use all of our names to form a poem! The masterpiece is in the middle.
Day 2
We took a short flight from Kunming to Dali. Dali is full of culture! Look at our tour guide, she's wearing their traditional clothes.
We visited a huge temple place in Dali. Had to climb up many steps.
We wore their traditional clothes at the Butterfly Park. Haha. Once a pair of lovebirds jumped into the lake behind us because their parents didn't want them to be together.
Day 3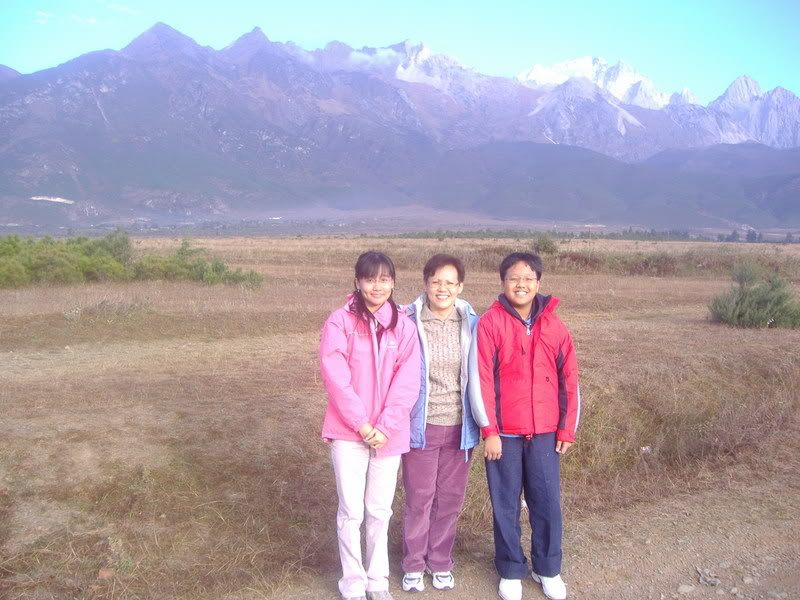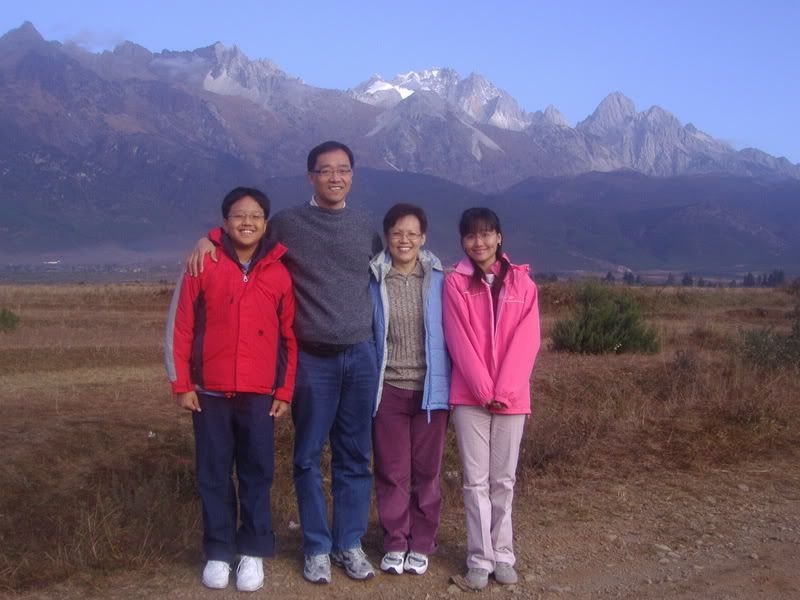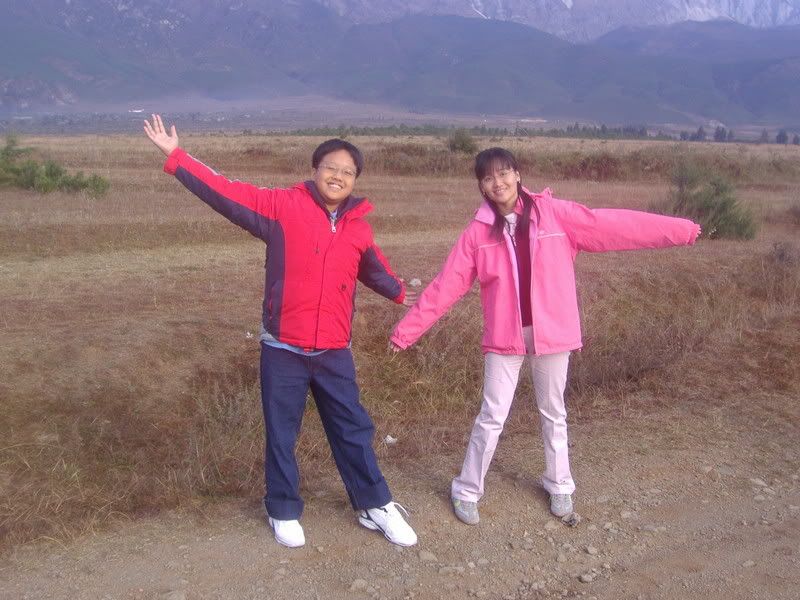 We went to another place called Lijiang. The place there was cold cold cold in the morning! Especially we're standing behind an ice-capped mountain.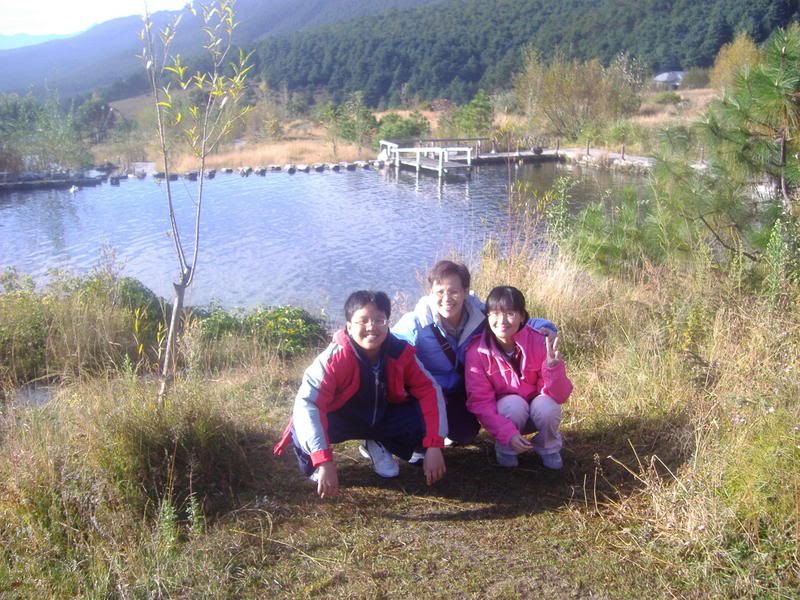 Lijiang's rivers and mountains. Still cold in the morning.
Lijiang's crystal-clear lake at a garden.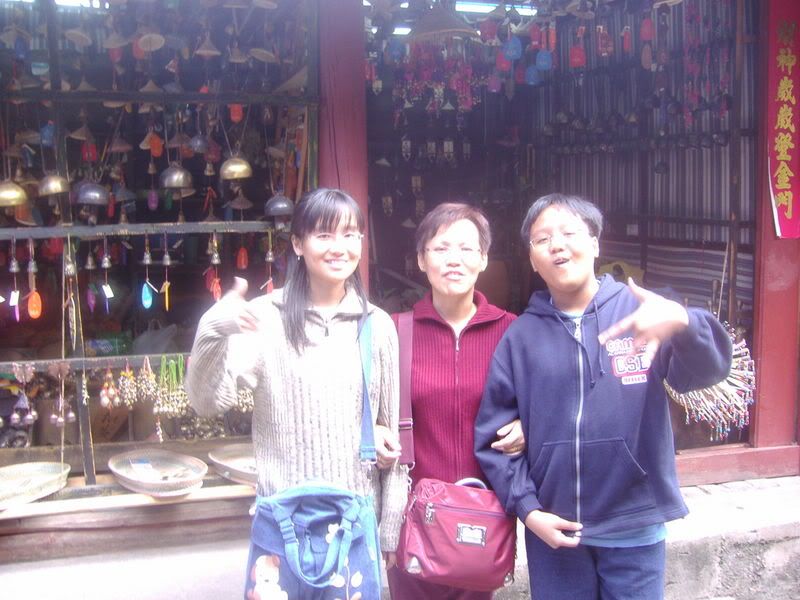 Old street shopping at Lijiang! Shopping kept me alive during the 9-day trip because I thought there ain't any shopping. Lol.
Day 4
After Lijiang, we endured a 7 hour trip by bus to Luku Lake. This picture was taken after we took a sort of cable car thing up to a mountain and climbed up the high mountain. The cable car thingy was scary, for I am afraid of heights and the mountain is 3800++ m high. Difficult to breathe. Lol.
Day 5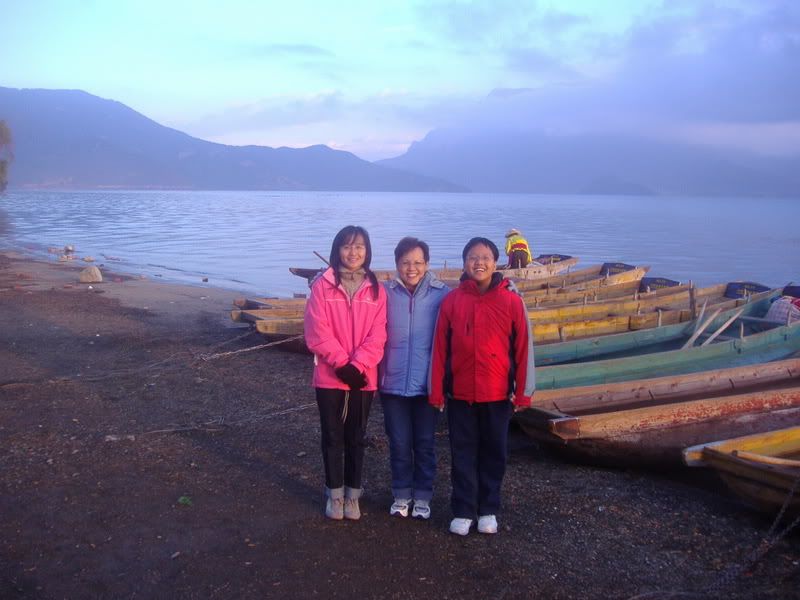 We were still at Luku Lake and were ready to take a boat ride at the very vast and boundless lake. We didn't bathe as the hotel we stayed at the night before didn't have heater. All of the tour people didn't bathe too. Ice water, ya know.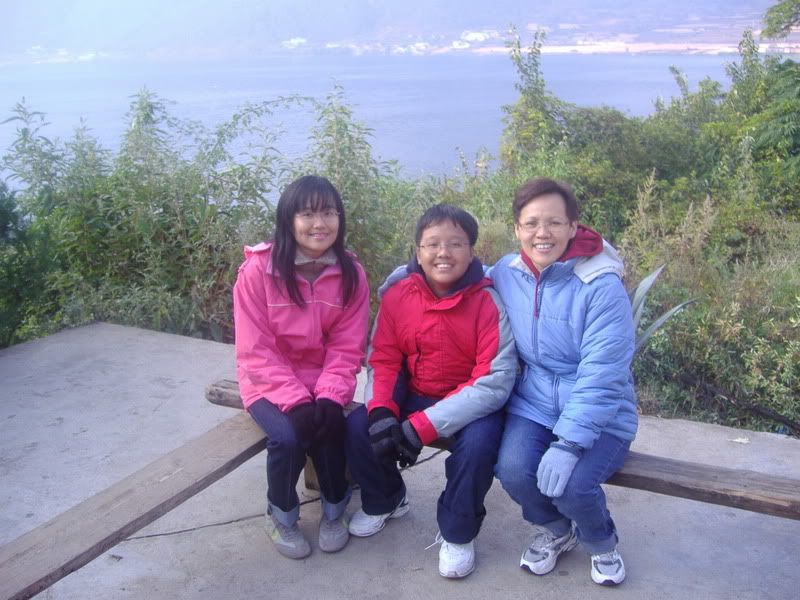 This is a temple place after the boat ride was finished. Behind us is the wow-wow Luku Lake.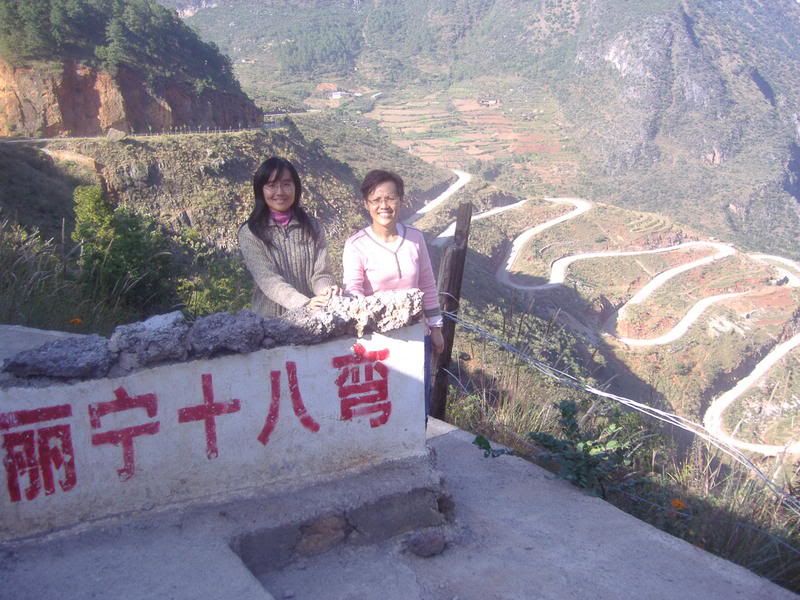 The bus stopped for us to take a photo of the 18 turns around the mountain area. Yeah, we're returning back to Lijiang, the dreaded 7-hour bus ride. Our hair is deprived of cleanliness! We need to bathe although it's very cold.
When we finally reached Lijiang, we quickly bathed and refreshingly went to watch a performance.
Day 6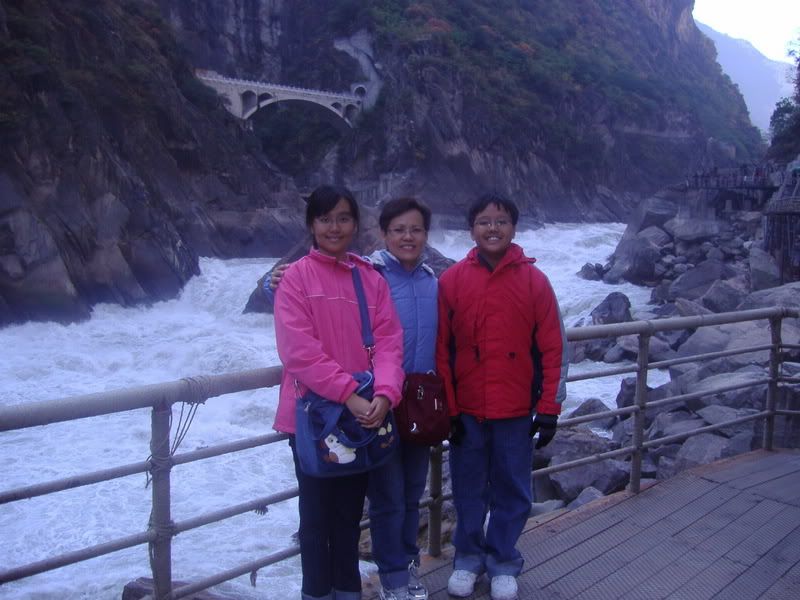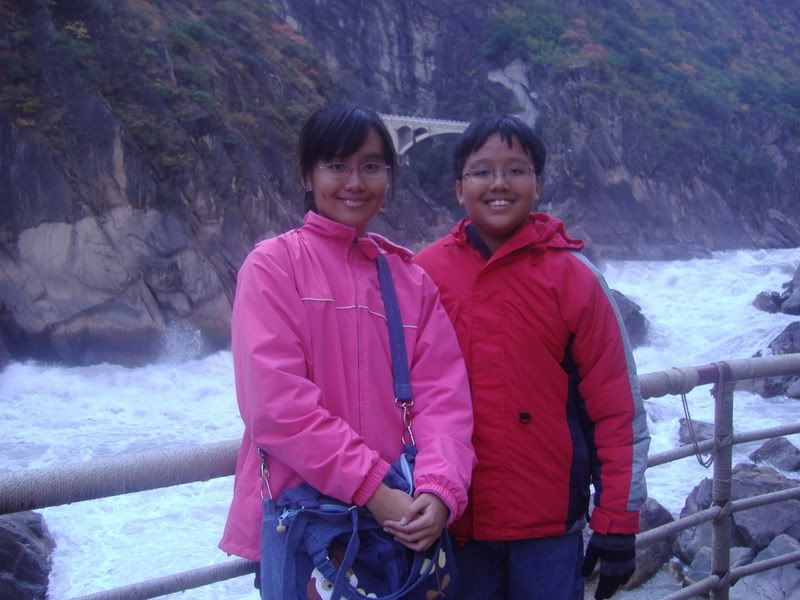 We left Lijiang for Shangri-La. And yeah, we reached Shangri-La and this is the place where we admired the strong currents of a lake after we climbed another mountain.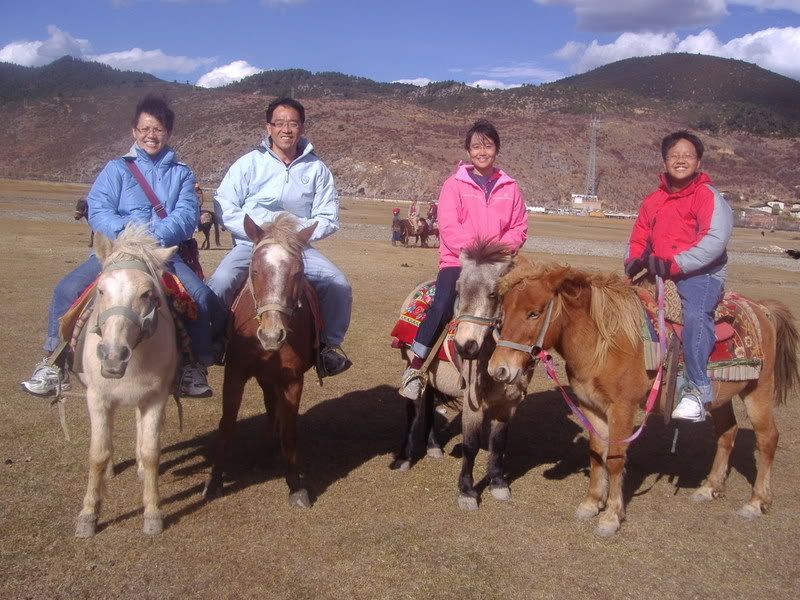 The fun thing baby! Horse-riding at Shangri-La. My horsie is a cutie because she's the smallie! Haha. It's the first time we rode on a horse; the novelty is wow! But I was kinda scared at first, when I stepped onto the shoe thing and onto the horse. When the horsie moves, your whole body moves baby! And my brother's horsie likes to shit and fart. And that horsie and my horsie like to be together, so close together that when my brother's horsie shit, the shit almost dropped onto my pants. Lol.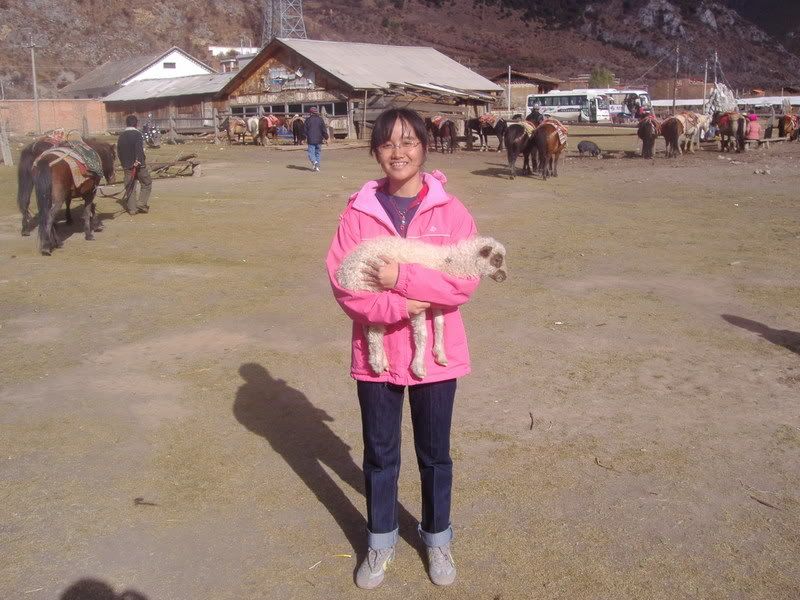 After horse-riding, I cuddled a little lamb. Mary had a little lamb, haha. Was kinda scared because the little thing is kinda squiggly.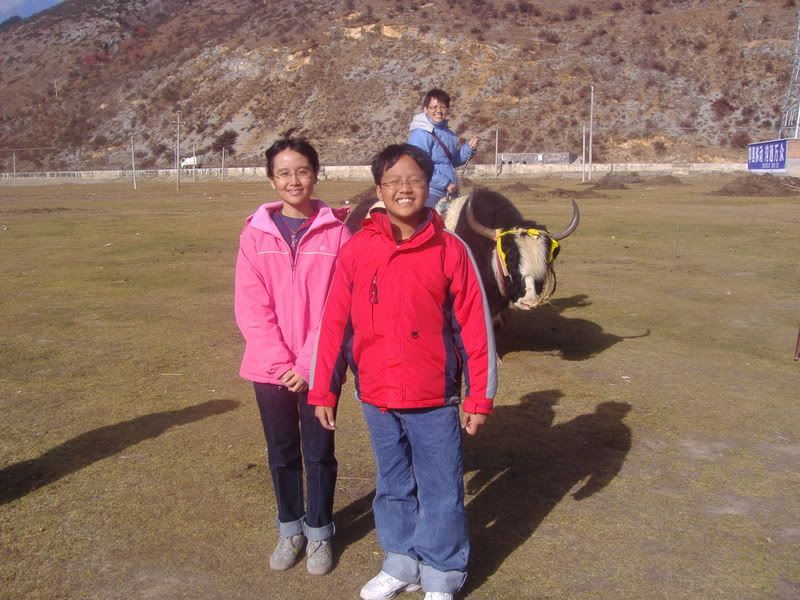 My mom sat on a cow! This is the first time we saw such a huge ferocious-looking cow.
We went to the old streets of Shangri-La. Was soooo cold! Shudder.
We went to the local people's houses at night. They were fantastic hosts and kept us happy.
Day 7
Went back to Kunming from Shangri-La. And visited a cave place with colourful lights.
There was a huge waterfall in that cave place. We're standing in front of it.
Day 8
We went to a sand forest. Everything there was made of sand.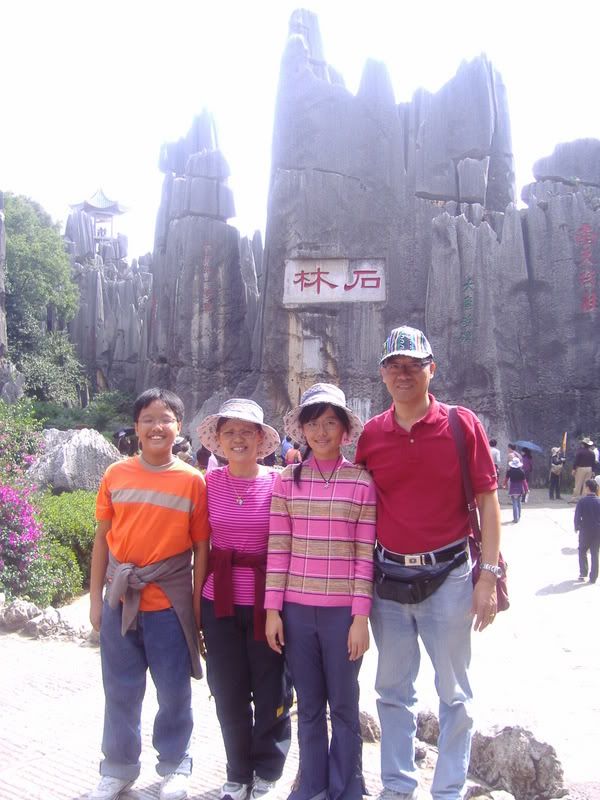 After the sand forest, we went to a stone forest. Loads of stone-resembling objects due to natural corrosion.
There was a TV filming place at the stone forest and there were costumes too. So we wore their costumes and became a royal warrior family. Haha.
Last Day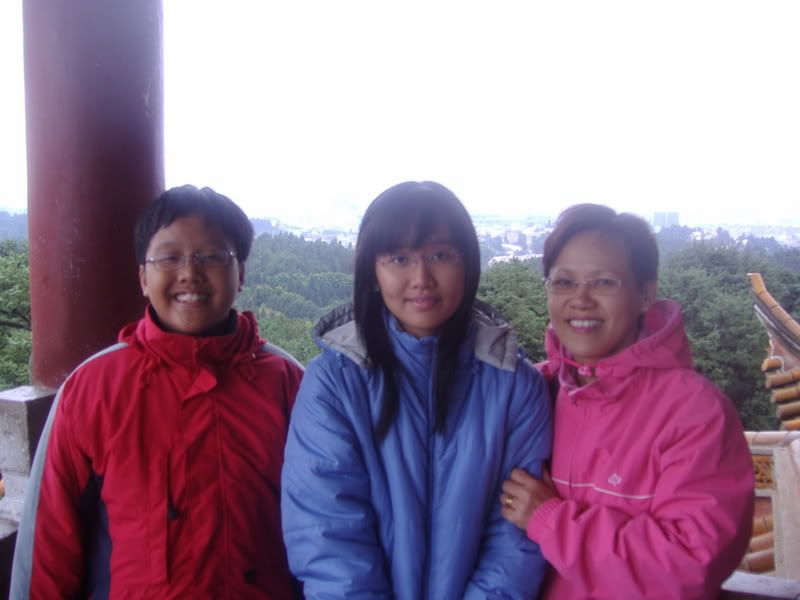 We went to a temple kinda place and the weather was cold cold cold. So unexpectedly cold that we didn't wear thick clothing and I was freezing. So my mom lent me her big sweater.
We're inside a temple. And the big bell is said to bring good luck and etc when you use the fish head to make it ring.
Outside the temple there's a special tree. You scratch the tree and the leaves will shake. Lol.
You have come to the end of photo viewing. Thank you and good bye. Lol.
We bought lotsa souvenirs from China, due to lotsa shopping baby! I bought the most, as always. For myself, haha. Joking. I bought some prezzies for my darlings baby! Haha. The things there are so cheap that it's impossibly cheap. Like you can get a nice long-sleeved jumper for $6. Oh and we saw poor children and decided to give them money and food. Poor lil things. Now I know how fortunate I am. Lol. Oh and the people there don't call females and males as Xiao Jie and Xian Shen. They have many different greetings for males and females, eg. Xiao Ah Mei and Xiao Ah Ge, Jin Hua and Ah Peng Ge, Ah Shi Ma and Ah Hei Ge, Pan Jin Mei and Pan Jin Ge. Interesting eh?
Yawn, I'm suffering from jet lag. I wanna sleep, and relax. But there's school tomorrow. And I'm gonna drown in Homework Lake.