♥ heart on wings


{Saturday, June 03, 2006}
My mood is weird.
It's going on and off.
I'm feeling dreamy today.
So I'm taking a few quizzes.
And of course, being the generous girl, I'm sharing the end results here.
Teeheeheee.
Your Dream Engagement Ring Has a Heart Diamond!


You wear your heart on your sleeve, so of course you should also wear it on your ring.

A heart diamond is the perfect choice for highlighting your passionate disposition.

Only a true romantic can get away with wearing this ring. Luckily, that's you.

And only a true romantic can give you this ring, so make sure you find him...!

You Are A Total Shopaholic!


You have a keen eye for spotting trends before they are hot

And sometimes your credit rating takes a beating as a result

Consider a job in retail to subsidize your gorgeous outfits

Over time, you could become a famous stylist or designer!

You Are Chocolate Caramel Kiss Lip Gloss


Saying that you're one of a kind is ... well ... an understatement.

You're unusual, quirky, wacky - and you love to challenge people.



And you are a total trendsetter. Your friends are quick to copy your fashion and music tastes.

Which is why chocolate caramel is your perfect flavor. It's as rare and outrageous as you are.

You Should Be With a Water Sign!


Your best match is a Cancer, Scorpio, or Pisces



Why? You crave intimacy and connection in your relationship

And while most guys can't open up enough for you, a Water Sign can

Not that you're whole relationship will be soul gazing

A Water Sign matches your goofy sense of humor - and desire to help others.

You Will Be a Traditional Bride!


You're the type of girl who is feminine, old fashioned, and totally traditional.

You've been dreaming of your wedding day since you were young

And you can't wait to be a princess in your big white gown.

It's likely that you'll have a big family wedding and take your husband's name

While a huge affair will be fun, just don't go all Bridezilla about the color of your napkins!

You Were An Angel This Year


You Were 15% Naughty, 85% Nice



You know you've been a super good girl this year

So good, that you may have missed out a little...

Don't worry, Santa will make it up to you!

What Guys Think of Your Pigtails or Braids...


Trendy, wild, and unconventional.

You're a handful and it's hard to predict your behavior. But he loves that!

You Are Right Brained In Love
Bit of a drama queen

Peacemaker, first to end a fight

Good at thinking up creative dates

Tend to fall in love and get hurt easily

Going with your gut instead of your head

Emphathetic and caring, sometimes to a fault

Good at recognizing patterns in relationships

Been in love many times, perhaps too many to count

Wildly passionate and intense when falling in love

Spontaneous with relationships, going with the flow

Overly visual - can play back past dates like movies in your mind

Roses, love poems, and stuffed animals are a good start to winning your heart
Your Inner Pop Princess Is Hilary Duff


"I'm shedding

Shedding every color

Trying to find a pigment of truth

Beneath my skin"



You're sweet and cute, but a little more complex than that.

You are a Blanced Babe!


You're direct and to the point, but never dramatic

You've got the confidence to speak your mind to anyone

But you leave the theatrics to Hollywood

Level headed and emotionally stable, no wonder everyone loves you

Your Spicy Score: Medium


You are hot enough to make a lasting impression, but you strike a balance.

You know when you're being too fiery, and you also know when to bump up the temperature.

Naughty and clever. Sexy yet down to earth. You know how to work both sides of your personality.

Men find you hot yet approachable - the perfect combination!

Your Famous Movie Kiss is from Romeo + Juliet


"Has my heart loved 'till now? Forswear it, sight! For I never saw a true beauty 'till this night."

3:37 PM;
be with myself
Affirmation

cappucino on a rainy day,
snuggles in the warmth of blankets,
hot food in the arms of hunger,
huge umbrella of a stranger,
embraces in the rain,
smiles amidst frowns,
sincerity..
triumphs and singing of the heart

in center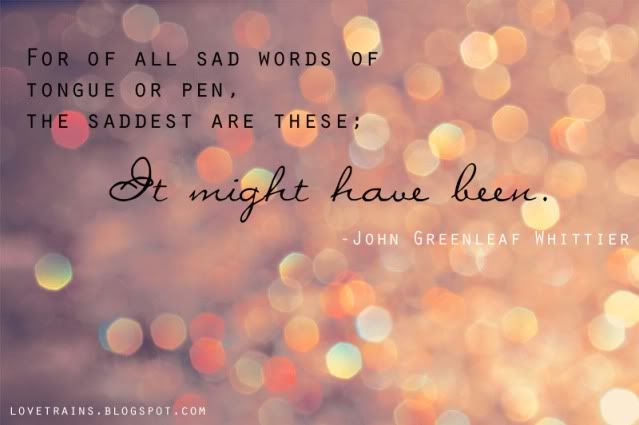 clarity

Raindrops like candlewax
Drowning in a
Solid sculpture, you Burning and cold.



peace


Independence
Health
Baking skills
Yoga/Electone lessons
Love
Faith
Happiness



serenity.

*HUGS* TOTAL! *HUGGIES* snuggles & cuddles


.::.


Cousin ♥
amelin =)
fiona =)
ke*hua =)
edwin =)
sim*yee =)
yi*chen =)
anna =)
♥ trains


.::.
mist swirl memories
October 2004
February 2005
March 2005
April 2005
May 2005
June 2005
July 2005
August 2005
September 2005
October 2005
November 2005
December 2005
January 2006
February 2006
March 2006
April 2006
May 2006
June 2006
July 2006
August 2006
September 2006
October 2006
November 2006
December 2006
January 2007
February 2007
March 2007
May 2007
June 2007
August 2007
September 2007
November 2007
December 2007
January 2008
February 2008
March 2008
April 2008
May 2008
June 2008
July 2008
August 2008
September 2008
October 2008
November 2008
December 2008
January 2009
February 2009
March 2009
April 2009
May 2009
June 2009
July 2009
August 2009
September 2009
October 2009
November 2009
December 2009
January 2010
February 2010
March 2010
May 2010
June 2010
July 2010
August 2010
September 2010
October 2010
November 2010
December 2010
January 2011
February 2011
April 2011
May 2011
June 2011
October 2011
November 2011
December 2011
January 2012
March 2012
July 2012
August 2012
October 2012
January 2013
March 2013
April 2013
May 2013
November 2013
June 2014

Credits:
momotea
,
larafairie
.
Images:
Foto decadent
,
deviantart
.
Since 31st March'06
All Rights Reserved