♥ heart on wings


{Thursday, April 06, 2006}
I was just reading through my really olden posts.
Some were just downright mushy lah.
Now then I realized.
I read some of the posts, and laughed at the titles.
The titles were weird, I admit.
I could not even believe that it was me who posted the entries!

One Example:
Stars are twinkling bright at night
It seemed so familiar to me
The shining tapestry
My love for you glimmers like the stars
Except it will be the brightest of the bright
Musical notes wavering through the skies
A silhouette of a piano sits nearby
The undying notes of the music
Will revolve around you
As long as I live my life
As I sit alone by the boundless skies
My only shadow that accompanies me
Wishing that you will stand by me
Like the shadow
That will never leave
Gazing upon the stars
Once upon a time I prayed
Wishing that you will be the other part of me
Living the rest of our lives together
Till eternity
I guess I'll just leave it to fate
But if it wasn't meant to be you
I'll just wait

Ohmygod.
I cringed when I read that.
LOL.
What a beautiful flashback. (Lol. That was censored. Replaced by that poem.)
And some of the poems I created were speechlessly mushy too.
LOL.

Anyway, back to the present.
I feel that I'm a really fortunate princess who has so many darlings with her.
Sometimes I feel so sinful, wanting all the perfect things in the world.
But life is short and we must treasure it.
So whenever I feel down, I'll just try and tell myself all these.
To prevent myself from doing anything silly.
I feel that I'm really unique, you know.
Serious.
When I was young, my grandmother told me that I was really special and lucky.
Special in the sense that I have loads of birthmarks and a pair of deep-set dimples.
Lucky in the sense that once I was born, I have a father who drives a car.
I really love my grandparents.
Looking back, they were the ones who took care of me when I was a baby.
My grandfather even went to an extent that he bought live frogs to kill them for their legs because my legs were really weak when I was small. (Yeah, I ate them, innocently thinking I was eating chicken wings.)
My grandmother actually cried for days when I was sent back to my parents for school.
Aww.
I love them to bits.
What about my parents, you ask.
Actually my mom do care about me.
My father too.
I can sense it sometimes.
=)

I believe, we all have
One true love
Somewhere in this world
I do
And it seemed
All my dreams were falling through
I found myself
When I found you
I found
The closest thing to heaven
Yes I knew
I found
The deepest love I knew
I believe, yes it's true
I found myself
When I found you.

I adore my mushiness.
Heh.
No lah.
It's just a song.
+)

I really envy Cheng-jun ge and Jingshu in Stairway to Heaven.
They are so loving and perfect.
Especially when they were young.
Even if you didn't watch the movie, just see the pictures and you'll know.
Can the piano music and the photos make you cry?
So touching lah.
*sob*

Freak, it's just a fairytale made up by movie directors.
If only life was this perfect.

7:18 PM;
be with myself
Affirmation

cappucino on a rainy day,
snuggles in the warmth of blankets,
hot food in the arms of hunger,
huge umbrella of a stranger,
embraces in the rain,
smiles amidst frowns,
sincerity..
triumphs and singing of the heart

in center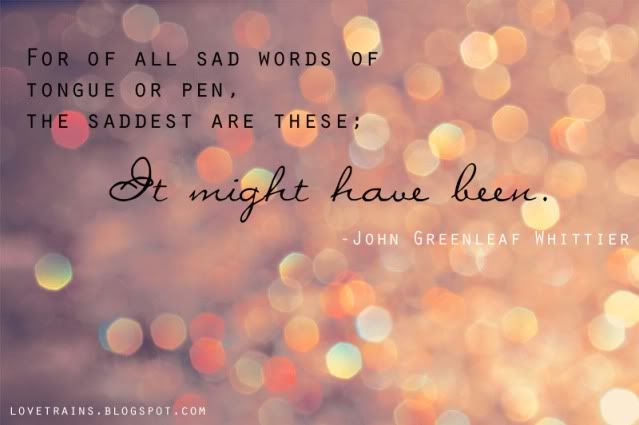 clarity

Raindrops like candlewax
Drowning in a
Solid sculpture, you Burning and cold.



peace


Independence
Health
Baking skills
Yoga/Electone lessons
Love
Faith
Happiness



serenity.

*HUGS* TOTAL! *HUGGIES* snuggles & cuddles


.::.


Cousin ♥
amelin =)
fiona =)
ke*hua =)
edwin =)
sim*yee =)
yi*chen =)
anna =)
♥ trains


.::.
mist swirl memories
October 2004
February 2005
March 2005
April 2005
May 2005
June 2005
July 2005
August 2005
September 2005
October 2005
November 2005
December 2005
January 2006
February 2006
March 2006
April 2006
May 2006
June 2006
July 2006
August 2006
September 2006
October 2006
November 2006
December 2006
January 2007
February 2007
March 2007
May 2007
June 2007
August 2007
September 2007
November 2007
December 2007
January 2008
February 2008
March 2008
April 2008
May 2008
June 2008
July 2008
August 2008
September 2008
October 2008
November 2008
December 2008
January 2009
February 2009
March 2009
April 2009
May 2009
June 2009
July 2009
August 2009
September 2009
October 2009
November 2009
December 2009
January 2010
February 2010
March 2010
May 2010
June 2010
July 2010
August 2010
September 2010
October 2010
November 2010
December 2010
January 2011
February 2011
April 2011
May 2011
June 2011
October 2011
November 2011
December 2011
January 2012
March 2012
July 2012
August 2012
October 2012
January 2013
March 2013
April 2013
May 2013
November 2013
June 2014

Credits:
momotea
,
larafairie
.
Images:
Foto decadent
,
deviantart
.
Since 31st March'06
All Rights Reserved