♥ heart on wings


{Friday, January 06, 2006}
Dear Diar2,

This email really caught my attention.

A girl asked a guy if he thought she was pretty, he said...no.

She asked him if he would want to be with her forever, he said...no.

She then asked him if she were to leave would he cry, and once again he replied with a no.

She had heard enough. As she walked away with tears streaming down her face, the boy grabbed her arm and said,

"You're not pretty, but beautiful."

"I don't want to be with you forever. I need to be with you forever."

"And I wouldn't cry when you walk away, I'll die."

You are everything to somebody right now this very minute.

Someone is very proud of you
Someone is thinking of you
Someone cares about you
Someone misses you
Someone wants to talk to you
Someone wants to be with you
Someone hopes you aren't in trouble
Someone is thankful for all the support you have provided
Someone wants to hold your hand
Someone hopes everything turns out all right
Someone wants you to be happy
Someone wants you to find them
Someone is celebrating your successes
Someone wants to give you a gift
Someone thinks you ARE a gift
Someone hopes you are not too cold, too hot
Someone wants to hug you
Someone loves you
Someone wants to lavish you with small gifts
Someone admires your strength
Someone is thinking of you and smiling
Someone wants to be your shoulder to cry on
Someone wants to go out with you and have lots of fun
Someone thinks the world of you
Someone wants to protect you
Someone would do anything for you
Someone wants to be forgiven
Someone is thankful for your forgiveness
Someone wants to laugh with you about old times
Someone remembers and wishes you were there
Someone needs to know your love is unconditional
Someone values your advice
Someone wants to tell you how much they care
Someone wants to stay up watching old movies with you
Someone wants to share their dreams with you
Someone wants to hold you in their arms
Someone wants you to hold them in your arms
Someone treasures your spirit
Someone wishes they could stop time because of you
Someone can't wait to see you
Someone wishes that things didn't have to change
Someone loves you for who you are
Someone loves the way you make them feel
Someone wants to be with you
Someone hears a song that reminds them of you
Someone wants you to know they are here for you
Someone is glad that you're her friend
Someone wants to be your friend
Someone stayed up all night thinking of you
Someone is alive because of you
Someone is wishing you would notice them
Someone wants to get to know you better
Someone believes you are their soul mate
Someone wants to be near you
Someone misses your guidance and advice
Someone values your guidance and advice
Someone has faith in you
Someone trusts you
Someone needs you to send them this letter
Someone needs your support
Someone needs you to have faith in them
Someone needs you to be their friend
Someone will cry when they read this...

This is so touching. My many many pieces of broken heart are already shedding silent tears inside. But I just know that each piece would be healed with one of these sentences.

`x0x0``
muacks**

Though I do not know Someone, I'm thankful that Someone wants me to know that I'm everything to them this very minute...
I love you.

8:50 PM;
be with myself
Affirmation

cappucino on a rainy day,
snuggles in the warmth of blankets,
hot food in the arms of hunger,
huge umbrella of a stranger,
embraces in the rain,
smiles amidst frowns,
sincerity..
triumphs and singing of the heart

in center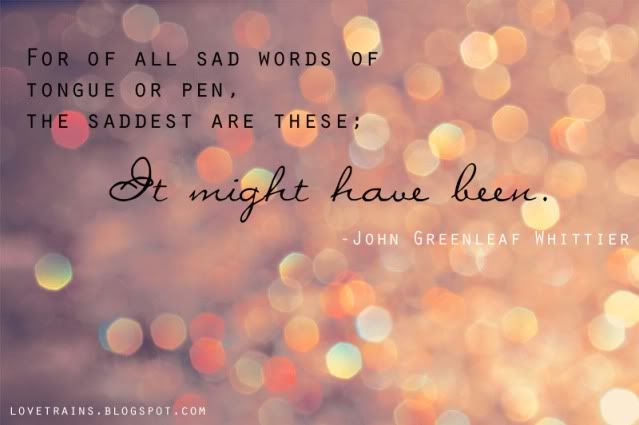 clarity

Raindrops like candlewax
Drowning in a
Solid sculpture, you Burning and cold.



peace


Independence
Health
Baking skills
Yoga/Electone lessons
Love
Faith
Happiness



serenity.

*HUGS* TOTAL! *HUGGIES* snuggles & cuddles


.::.


Cousin ♥
amelin =)
fiona =)
ke*hua =)
edwin =)
sim*yee =)
yi*chen =)
anna =)
♥ trains


.::.
mist swirl memories
October 2004
February 2005
March 2005
April 2005
May 2005
June 2005
July 2005
August 2005
September 2005
October 2005
November 2005
December 2005
January 2006
February 2006
March 2006
April 2006
May 2006
June 2006
July 2006
August 2006
September 2006
October 2006
November 2006
December 2006
January 2007
February 2007
March 2007
May 2007
June 2007
August 2007
September 2007
November 2007
December 2007
January 2008
February 2008
March 2008
April 2008
May 2008
June 2008
July 2008
August 2008
September 2008
October 2008
November 2008
December 2008
January 2009
February 2009
March 2009
April 2009
May 2009
June 2009
July 2009
August 2009
September 2009
October 2009
November 2009
December 2009
January 2010
February 2010
March 2010
May 2010
June 2010
July 2010
August 2010
September 2010
October 2010
November 2010
December 2010
January 2011
February 2011
April 2011
May 2011
June 2011
October 2011
November 2011
December 2011
January 2012
March 2012
July 2012
August 2012
October 2012
January 2013
March 2013
April 2013
May 2013
November 2013
June 2014

Credits:
momotea
,
larafairie
.
Images:
Foto decadent
,
deviantart
.
Since 31st March'06
All Rights Reserved